Copper Sink Care Tips from an Interior Stylist
Oct 2016
Sinkology is proud to present Kristan Allen, our design expert and guest blogger who runs the @FarmhouseRedefined Instagram. Kristan is here to share some design ideas and inspiration around designing your home around your copper sink.
---
I have a copper farmhouse sink in my kitchen and when someone visits my home, their first reaction to it is usually, "Oh wow, it's stunning." This is quickly followed by the question, "How do you take care of it?" For some people, owning a copper sink can be intimidating because they are perceived as high-maintenance or tough to care for. But that's actually not true! Copper isn't any more or less difficult to maintain than other metals. Its unique, living finish is easy to clean and adds instant dimension to a space.
So why do we think copper is so complex? I took to my Instagram page to ask folks what kinds of questions or concerns they had about owning a copper sink. I got great feedback and enlisted the help of my friends and copper experts over at Sinkology to help me answer some of the questions (and debunk a few myths!). Take a look below to learn more about caring for copper. This info may just help you take the leap into copper sink ownership!
"What kind of cleaner should I use on a copper sink?"
Household cleaners and harsh chemicals can actually damage copper's natural finish, so all you need to clean a copper sink is a little soap and water! Scrub it gently with a soft cloth or sponge and then rinse. It's as simple as that! And if your household is anything like mine – hello, kids who spike their spoons and bowls into the sink like a football player doing a touchdown dance – you may want to consider using a sink grid to protect the bottom from scratches and dents.
"I love the look of copper, but doesn't it end up turning green?"
Copper is one of the few metals that has a living finish, which means it is continually evolving in response to its environment. The green verdigris that develops on copper is called patina and it's actually a natural process that occurs to protect the copper from outside elements. Does this mean that, 20 years from now, you'll have a completely green sink? Nope! Over time, you'll start to notice small patina spots, but it won't take over your sink.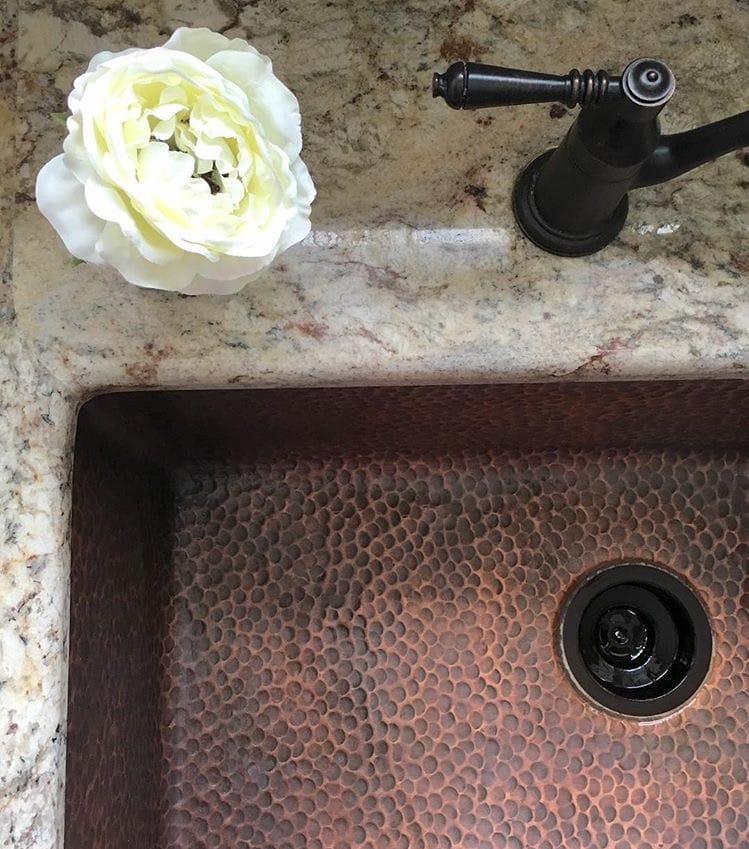 "When it starts to patina, do you let the copper do its thing? Will the patina affect or react with stainless steel or other kitchen metals?"
Because it's a naturally occurring process, you really don't have to do anything when the copper starts to develop patina. It won't react with other metals and it won't affect the performance of your sink. As the patina continues to evolve, you'll notice that it will darken and leave your sink with a rich and coppery blend of light and dark tones. If you notice green spots, they can easily be removed with warm water and a sponge.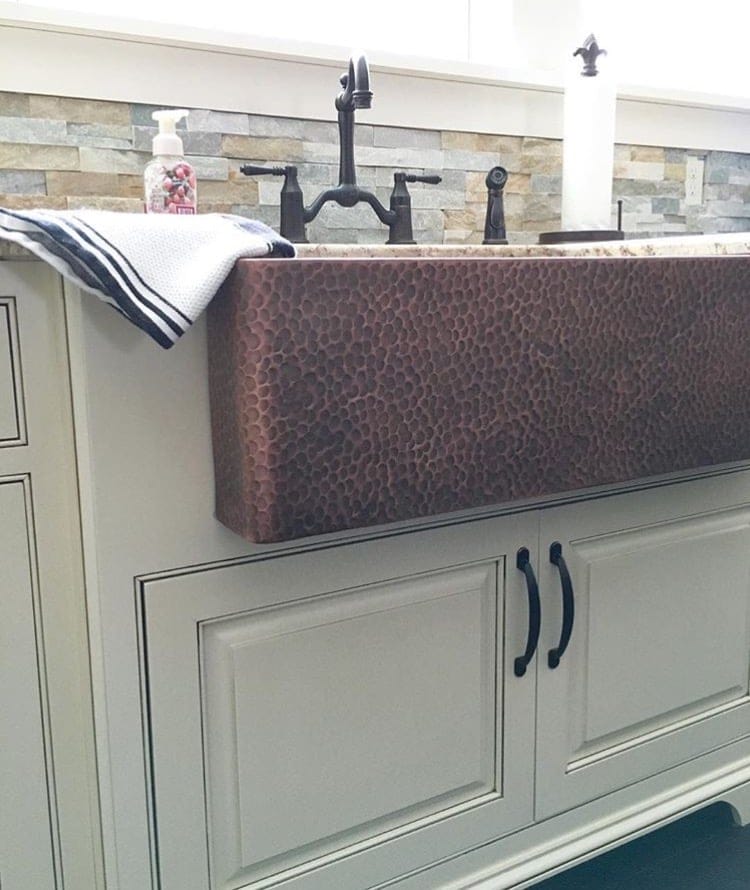 "What if I don't want the sink to patina?"
All copper will eventually start to develop some patina. It's part of its chemical make-up! But there are a few things you can do to keep your copper finish looking as consistent as possible:
Don't use any harsh cleaners/chemicals (per the above)! Just wipe it down gently with soap and water.
Rinse your sink so food particles, toothpaste, or soap don't lay on the surface for extended periods of time.
Dry it off occasionally to avoid water spots and don't keep a sponge in the sink – water and bacteria can get trapped underneath, which could lead to spots. You can use a sponge holder like the one offered from Sinkology!
To further protect a copper sink and minimize spotting, you can apply a monthly coating of Sinkology's Copper Armor. This spray-on wax won't prevent the sink from developing patina, but it will help to keep the living finish looking even and consistent.
Copper sinks are just as easy to maintain as other types of sinks and they can make a big statement in your kitchen or bath. For more information on how to care for copper, or to check out sink options and accessories, visit www.Sinkology.com.
---
If you have any additional questions during your search for the perfect copper sink, our Sinkologists are here to help. Contact us or follow us on Facebook, Twitter, Houzz, Pinterest, or Instagram for more helpful tips and design ideas.